Walmley Golf Club was formed at a meeting in Erdington, Birmingham on 22nd September 1902 after a group of friends, who couldn't play tennis on Sundays, had got in to the habit of knocking a golf ball back and forth in William Ashford's fields, using a bag of golf clubs that two of them had won in a lawn tennis tournament. A nine-hole course was opened on 20th December of the same year with about fifty members taking part.
The course was extended to eighteen holes in May 1908. During the next two years more land was acquired, together with the purchase of a large Victorian house to act as the Clubhouse.
The course was improved and developed steadily until World War II came when, amongst other difficulties, half the course was ploughed up.
In 1962 the Club bought the freehold of nearly all the land in use and sold the land to the north east of Brooks Road that the Clubhouse stood on. The sale of this land enabled the Club to buy the freehold of all the remaining land and to build the modern Clubhouse now in use to a design that allows wonderful panoramic views of the course.
As the course was now wholly owned by the Club, extensive tree planting could take place to create an attractive parkland Course.
In 1982 more land was purchased and the course was further developed to create the 3rd, 4th and 5th hole and provide the water features that the course now possesses.
Further details of the Club history may be obtained from the Walmley Golf Club Centenary Book available from the Club, price £10.00 (Please contact the Secretary here )


Comments & reflections from yesteryear by Robin Goodman a Walmley member from time gone by!!!
Reflection 1
It was fun to see the old pictures which brought back many happy memories at Walmley.
To the right of the old pros shop was a six foot hole in the fence. Behind the fence the car park. Us caddies used to queue up on the car park side on Sunday morning waiting to arrive at the hole in the fence and a job. It was 1959 and the pro Mr Ted Mathews [ Ken Dodsworth was his assistant then] would issue you with a voucher for one shilling and ninepence. This was the caddies guarantee of payment and if he was lucky then that would be made up to two shillings and sixpence, or half a crown as it was known then, to include a tip. Sunday morning golf was four-ball and the wager used to be a new golf ball. An unscrupulous loser I witnessed furtively wiped off the Warwick ball [the cheapest] he had just used and put it back in its original wrapper before handing it over. The cheapskate!
I got a good reputation as a caddie having mastered the three golden rules – turn up, keep up and shut up! Finding myself eventually in regular employ with Ted Barber. Ted being the richest member was also the best payer and uped my pay to five bob.
I finished off caddying for Ken Dodsworth who had the distinction of reaching the semi-finals of The News of the World match play at Wentworth. Ken was a great golfer, famed for his iron play. I kept quiet with Ken but would put my hand over the club I thought he should use. He was kind enough to announce on one occasion that I was the best caddie he had had, and we only disagreed once a round about what club he should hit and that I was always right.
Reflection 2
Just as a foot note to my last post. Ted Mathews the old pro looked just like the "Penfold man"logo. He might have modelled for him. A short, daper chap always dressed in plus fours with waist-coat and tie, topped off with a baggy cap. He seemed to always have a pipe in his mouth – lit or unlit. All members he addressed as Mr Whatever and he was not allowed in the clubhouse.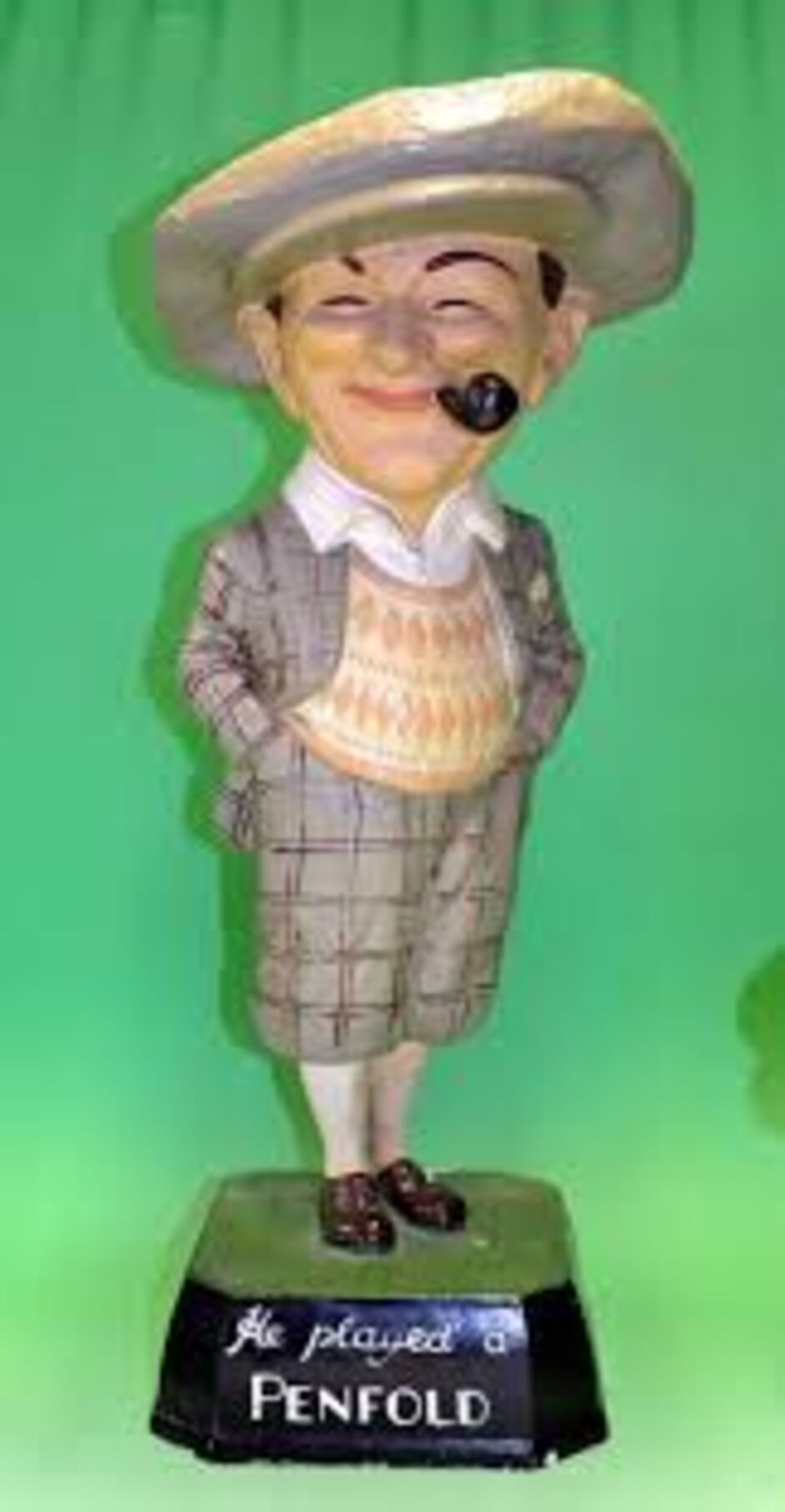 Selby, who I see in some of the film was referred to at that time as "young Selby" as his father played. And he played with one of the Gardeners who owned a restaurant on Erdington High Street also called Gardeners,that was adjacent to the World famous Rock and Roll venue – Mothers. Even Hendrix played there.
Reflection 3
Seeing your website and a picture of four of Walmleys finest golfers. Golfers I should add who are also of National and International repute. My last story concerns John Leach or Jim as he liked to be called. I hope you don't mind me sharing.
In the early 70s I joined him to play in all the monthly medal and bogey events for the best part of two years.
Jim wasn't every bodies cup of tea. He seemed distant, preoccupied, intense. He would never stop for a drink or crack a joke. Drove a Triumph Stag and lived with his Mum. But he was polite and dedicated to golf. That was enough for me. It was a thrill to watch him go about the job of a round of golf. A tall strong man, he had a short swing with a full shoulder turn. Not a long hitter. Hit the ball arrow straight with a lowish flight. He won the Portugal Open in 1968. A scratch golfer that I never saw shoot lower than 68 or more than 72.
He lived next to the practice area and was practising one Summer evening when I too was looking to practise. I got as far as the tee next to the car park. He didn't see me and I watched gobsmacked for 30 minutes. He was at one end in the middle hitting about seven hundred balls with a seven iron. He hit the first one to the edge and the next one yard inside it and so on till he reached the other side creating a perfect arc and then back again in the same fashion. And then again!
But he got the putting nadgers. It got so he could hardly bring himself to hit it on the greens. It was a sad sight to see him lying down flat on his face looking for the remains of a worm cast that might deflect his putt. Used to make a mess of his cashmere too!
Ex-Walmley Professional, Ken Dodsworth has passed away (1924 - 2020)
Ken Dodsworth
The PGA regrets to report that Ken Dodsworth, an Honorary Member who played in The Open on three occasions, has passed away at the age of 95.
Ken spent all his career serving clubs in and around Birmingham, starting at Robin Hood Golf Club, Hall Green, where he worked under George Maisey for a year before enlisting in the Royal Navy in 1942.
His four years of service included action in the D Day landings and on demobilisation he joined Walmley Golf Club where he worked with Ted Matthews until succeeding him as head professional in 1951.
Ken's prowess as a player was reflected by a trio of appearances in the Open Championship, one at Muirfield in 1959 bookended by two at Royal Birkdale in 1954 and 1961. In addition Ken, who recorded 14 holes-in-one during his career, was a quarter-finalist in the News of the World matchplay at Walton Heath.
At Walmley, meanwhile, he played a major role in redesigning the course as well as earning a reputation as an innovative coach by being one of the first to film his sessions.
Ken was also an accomplished club maker but a move to Cocks Moor Woods Golf Club, a municipal course in Kings Heath, Birmingham, in 1970 resulted in a more managerial role.
However, he still made the time to play and won the Midlands Senior Professional Championship three times: in 1975, 79 and 83.
Mike Skerritt, a contemporary who was head PGA Professional at Walmley for 17 years after Ken moved on, recalled: "I used to play golf either with or against Ken quite often in those days.
"He had a style all of his own but it was very effective. He was a charming man, friendly and always kind."
---