2019 Junior Presentation Evening
Over 90 Juniors, colts, parents and relatives attended the 2019 Junior Presentation Evening. The evening began with a game of heads and tails, followed by food, a raffle and a quiz.

Congratulations to all the trophy winners for their efforts during 2019.

A big thank you for to all who attended. Thanks to Jan and her team for sorting out the food, thanks to Captain Phil Denver for presenting the trophies and many thanks to everyone who donated prizes for the raffle.

A special mention to Mrs Caldicott whose unusual Christmas hamper included the finest pot noodle....
Junior Order of Merit Champion 2019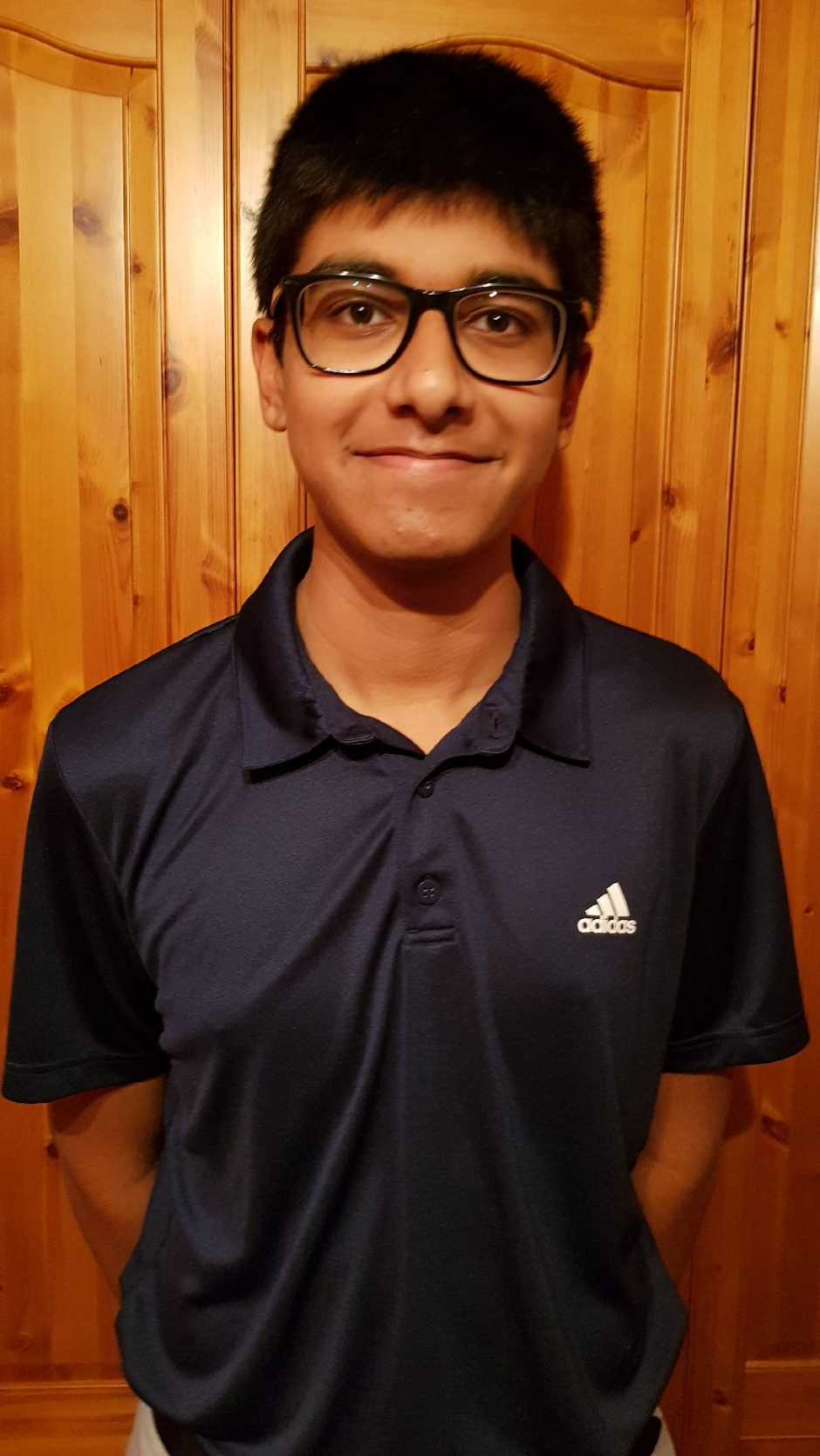 Arjan Billan
Two Junior Stars in the making !
This winter saw the juniors play for two main trophies.
The Chris Gibson Cup was the best three cards from five stablefords and the inaugural Ollie Dignam Trophy was a match play knockout competed by the top eight players from last years Order of Merit.

Congratulations to 8yr old Serafima Taylor in comfortably winning the Chris Gibson Cup
and to Sam Knowles for his 4&3 victory over Ben Evans in the final of the Ollie Dignam Trophy.


Well done both
Ben Storer 2018 Order of Merit Champion
Junior Ryder Cup 2018
Europe 9 1/2 USA 2 1/2
Last Saturday and Sunday saw fourteen Juniors and five 'dads' take part in the 3rd Walmley Junior Ryder cup. The draw for teams had been made at the junior championships 2 weeks previously and, on paper, the Americans were the strongest side.
Joe Moore & Billy Sansome captained the Europeans whilst Vice Captain Noah Winwood lead the USA. Billy was captain for the Saturday foursomes and oversaw a near 'blue' wash by the Europeans. However once the chips arrived from Atlantis fish bar thoughts turned to the Sunday singles.....
Last years event was a very close finish with a 7-6 victory for Europe. This meant that Europe just needed 2 1/2 points from 8 singles matches to retain the Sam Ryder trophy.
Captain Winwood sent out the top 3 from the order of merit to get some early points on the board for the Americans. But European singles Captain Joe Moore had similar ideas and so the two Bens and Noah himself all lost for the USA. Once Tom Quiggin had despatched Alfie Barron 8&6, the Ryder Cup was retained comfortably.
The highlight for the USA was a win by the rejuvenated Joe Creed beating Seb Bagley 5&3 but by then it was all too late.
Matt Earle completed the rout with his win over 'rookie' Jacob Delicate and Europe won the 2018 Junior Ryder Cup by 9 1/2 to 2 1/2. Maybe an omen for a similar event in Paris next weekend
g
USA Captain Noah Winwood and European Captain Joe Moore
Juniors 2018
Juniors Kick off the Season with a good win
Five of Walmley junior league team competed at Drayton Park in the Junior League season opener.
Junior Captain Joe Moore, Matt Ryan, Tom Quiggin, Noah Winwood and Ben Storer played in a team competition that separated our five juniors into mixed teams with juniors form other clubs.
On what turned out to be one of the best days of the year so far, Ben Storer's team won the event with 99 Stableford points and Noah Winwood's team came runner-up with 94 points.
Let's hope this is a sign of things to come this year for our juniors
Junior Club Championships 2017
On Saturday 15th and Sunday 16th July, 18 of Walmley's junior golfers were competing in the 2017 Junior Club Championships and U14's Club Championships. We were also able to stage the inaugural Colt Club Championships on Saturday 15th July, which involved young academy golfers who are progressing with Sam Stuart in readiness for the full junior set up. The standings after Day 1 reflected some good scoring and in particular the younger juniors put themselves in a good position in both the U18 and U14 competitions. As the scores came through into the clubhouse, it was clear that the result of both competitions would come down to the last couple of groups, which caused a mixture of excitement and chaos for the organisers. As all of the 6 groups played up to the 18th green, the atmosphere was electric and it was fantastic to see so many of the participants of the Mixed Open come out on the balcony to support the Juniors complete their 36th holes. I'm sure many of them have never played in front of so many people and it must have been a great sight for them hitting their tee shots up to the last hole.
Back Left: Ben Evans; Back Right: Billy Bateman;
Front Left: Ben Storer; Front Right: Sam Knowles
U18 Club Champion (Frank White Trophy)
After all of the scores were calculated, the Junior Champion for 2017 was awarded to 12 year old Sam Knowles, who recorded a final score of 184, finishing 2 shots clear of last year's winner Matt Ryan. I think everyone acknowledged that Sam had played the most consistent golf across the weekend and was a deserving winner of the Frank White Trophy. His speech for such a young boy was equally as impressive, and something he has not done before.....even if he did forget to thank his parents! With such a competitive section, it will be interesting to see who will be in contention again in 12 months' time.
Sam Knowles
U18 Nett Club Champion (Phillip Butler Trophy)
The Phillip Butler trophy was also well contended and some fantastic Nett scores were posted with 4 juniors in this category posting under par scores (Lewis Dowling & Sean Devlin -3 and Liam Harrison -7). If the Phillip Butler Trophy could be awarded for dedication and perseverance, then we couldn't have had a more worthy winner. Billy Bateman returned a Nett score of -20 to take the trophy by 13 shots. Everyone in the junior section was extremely pleased for Billy and Liam on achieving such great scores (and handicap reductions).
U14 Club Champion
The U14 Club championship was also a very closely run affair, made slightly more complicated by the fact that two of the U14's finished Day 1 in the top 3 for the Frank White trophy. When the scores were totalled up the U14 Club champion was awarded to Ben Evans who posted a total 195 and followed up his second place position last year to take the trophy. Ben now moves up into the U18's category and we are sure will have his eyes on the Frank White trophy, having played in the final group this year.
U14 Nett Club Champion
The U14 Nett prize again continued the trend of previous years with the result coming down to the last hole between Ben Storer and Leena Yakoob with only 2 shots to separate them. Having achieved a total Nett score of (+1) over the 36 holes, the U14 Nett Club champion for this year was Ben Storer.
Colt Club Champion
The Colt Club Championships were played over 9 holes off the red tees. All of the colts performed extremely well, especially considering that this was only their 3rd competition and their first time playing in a 9 holes event. Harry Ward finished 3rd with a fine score of 70 for his 9 holes and Tom Allen finished second having shot 65. The winner of the Colt Championship was 8 year old Sam Storer, who recorded a great score of 59 and took the trophy by 5 shots. Sam has also seen his Colt handicap reduce to 69 and like many of the colts continues to get more experience on the course as they look to progress into the full junior setup.
It has been fantastic to see the continued development of the Walmley Junior Section over the course of the year and the progression of all of the juniors has been wonderful to see. If they continue to work hard and be supported by the club then we should be able to look forward to better championships in 2018 with more juniors participating and further improved scores.
It was also fantastic to be part of such a great atmosphere in the clubhouse following both the mixed event and the junior championships. How many other clubs in the country, could boast about having a full clubhouse on a Sunday evening, celebrating and sharing the performances of golfers from all of our men's, ladies and junior sections. We would also like to thank those parents who helped to make it such a good weekend. Richard Storer for his work with the colts and help with the scoreboard that never was! Richard again, Craig Winwood and Dave Bagley for their help with the cards. Terry Ryan for supplying two dozen golf balls and Sammy Sansome for the pizza collection. Also, those members who supported the juniors either on the balcony or during the presentation as it meant a lot to them
Junior News 2017
September 24th
Walmley 3 Drayton 1

Maria Toledo-Bailey won 5&4
Matt Ryan lost 2 holes
Noah Winwood & Ben Evans won 4&3
Ben Storer & Liam Harrison won 5&4


2nd July
Moor Hall 2 1/2 Walmley 1 1/2

Matt Ryan won 8&6
Joe Moore lost 1 down
Alfie Barron & Alex Rafferty match halved
Noah Winwood & Ben Evans lost 2 down
25th June
Maxstoke Park 3 Walmley 1

Mattt Ryan Won 2&1
Joe Moore lost 1 down
Ben Evans & Sam Knowles lost 1 hole
Noah Winwood & Alfie Barron lost 2&1



Walmley 4 Walsall 0
Matt Ryan won 1 up
Joe Moore won 10&8
Noah Winwood & Alfie Barron won 5&3
Ben Evans & Alex Rafferty won 6&4
Walmley 2 Maxstoke 2

Maria Toledo-Bailey lost 1 down
Matt Ryan won
Joe Moore & Will Smewin won 5&4
Noah Winwood & Ben Evans lost 2&1
Juniors held at home

Walmley 2 Moor Hall 2

Walmley juniors continue to be unbeaten after being held at home by Moor Hall. Captain Matt Ryan and Vice Captain Joe Moore won comfortably, both winning 5&4. Alfie Barron was partnered by 11 year old Ben Storer, playing in his first match for Walmley, but were also beaten 5&4. Noah Winwood & Ben Evans lost a difficult match 3&2.
The juniors next take on Maxstoke Park on 28th May at home.


Drayton Park 1 1/2 Walmley 2 1/2
Walmley Juniors began the defence of their title by beating last years runners-up Drayton Park on their own course. Maria Toledo-Bailey made light work of their number 1 winning 8&7. Matt Ryan was also a comfortable winner 3&2. Joe Moore & new boy Alfie Barron struggled to a 4&2 loss.
But the real drama was in the final match with Noah Winwood & Ben Evans 3 down through 9 holes and needing just a half to give Walmley the victory. Then, after winning 3 holes in a row to be all square found themselves 1 down after 17 holes. Onto the final hole where Noah, with a brilliant shot to the green, secured his par and the half point to give Walmley the win.

Congratulations to the team on a great start to the season.
Noah Winwood & Seb Bagley
Chris Gibson Cup Winners

Congratulations to Noah Winwood and Seb Bagley on winning the Chris Gibson Cup. 12 pairs took part in this new trophy with Noah and Seb coming out on top.
Many thanks to Chris Gibson for donating the trophy.
The Junior league 2017
The Junior league officially got underway on Sunday with all five clubs coming together at Walmley for the season opener. The teams were a mixture of juniors from Drayton, Moor Hall, Maxstoke, Walsall and ourselves. 30 juniors took part in the sunshine and all enjoyed the course. Alfie Barron, 42pts, and Ben Evans 39pts, were the stand out scores from Walmley.
Walmley are defending champions, so good luck to the team this year as they try to retain the trophy.




Junior News 2016
Walmley Juniors were crowned league champions with a fabulous win at Moor Hall.
Walmley needed a win going into the last match of the season to secure the title. Once again Captain Tom McGrail led the charge with a 3&2 victory, followed by the Joes Moore & Johnston winning comfortably 5&3. The final pair saw Noah Winwood and rookie Ben Evans clinch the final point with a 4&2 win.
Many congratulations to all the players.Tom McGrail, Matt Ryan, Joe Moore, Sam Knowles, Tom Quiggin, Noah Winwood, Joe Johnston and Ben Evans.
The perfect end to a great season.




left to right is, Joe Moore, Matt Ryan, Tom McGrail, Noah Winwood, Joe Johnston and Ben Evans
This pic includes Young Sam Knowles in blue who wasn't selected for today but still came to support.


A big thankyou to Malcolm McDermott who sponsored the team shirts!

Matt Ryan lost 3&2
Tom McGrail won 3&2
Joe Moore & Joe Johnston won 5&3
Noah Winwood & Ben Evans won 4&2
---





Sam Storer - USA Mascot and a Walmley Colt
---
Walmley Junior Championships
15 of Walmley's junior golfers were out in force over the weekend competing in the 2016 Junior club championships and U14's club championships. Such has been the progression of the junior section over the course of the year it was decided to play the championships off the White tees over 36 holes on Saturday the 17th and Sunday the 18th September. With both gross and nett prizes available many of the juniors had been putting in extra practice in preparation for the championships and some fantastic performances resulted in extremely close finishes in both competitions.
WALMLEY YOUNGSTERS TAKE WARWICKSHIRE U12 HONOURS
2016 continued to be an exceptional year for Walmley's juniors as youngsters Sam Knowles (aged 11) and Ben Storer (aged 10) represented Walmley Golf Club in the Warwickshire boys U14's and U12's championships.
Playing North Warwickshire Golf Club for the first time on Tuesday the 16thAugust, both boys recorded their best 18 hole scores playing off the white tee's winning both the Gross and Nett U12 competitions.
Sam completed his round in a fantastic 90 shots, winning the John Jewsbury Cup and £35 which is presented to the U12 with the best overall Gross score.
Ben was awarded the lowest U12 Nett score, having played 108 shots and achieving a Nett score of 68
This is a fantastic achievement for both boys who did themselves and Walmley Golf Club very proud
---






Fresh Start for Walmley Juniors
The 2016 season for the Walmley Junior section, formally got under way on Sunday 28th February, with a 9 hole Stableford competition. On what was a fresh Sunday afternoon, it was extremely pleasing to see 11 youngsters turn out for the first competition of the season.
Richard Evans has recently taken over the running of the junior section and with the support of Richard Storer and Sam Stuart, will look to increase the profile of the junior section and continue to try and bring more kids through the Walmley academy and colt system. It was great to see a mixture of established and new juniors playing together and today's competition saw 4 academy graduates and 1 colt playing. The result of the competition saw Ben Storer edge out Ben Evans on count back, as both boys scored a very respectable 17 points for their 9 holes.
It is hoped that through some small changes this year and support through the whole club, the junior section can look forward to an exciting year with lots of weekly competitions and activities to show their improvement.
Fantastic Walmley Juniors!
Tom Quiggin, Joe Moore, Tom McGrail (cpt), Noah Winwood, Sam Knowles, Seb Bagley, Joe Johnston, Ben Evans
Sunday 8th May Maxstoke Park 1 Wamley 3
On the hottest day of the year, there was a fantastic display by the Walmley Junior team which saw them beat Maxstoke Juniors on their own course.
Captain Tom McGrail brilliantly led from the front to beat their 3 handicap player 3&2. Just as impressive was the fact that the 3 'rookies' on the team, Sam Knowles, Noah Winwood and Joe Johnston all brought home the points for Walmley. Also involved in an academy match were Seb Bagley and Ben Evans who earned a very creditable half against two of the Maxstoke boys.
Well done to all involved and a big thanks to Dave Bagley, Simon Knowles, Craig Winwood and Matt Quiggin for all their help.
Match Results Tom McGrail won 3&2
Tom Quiggin Lost 6&5
Joe Moore & Sam Knowles won 3&2
Noah Winwood & Joe Johnston won 5&3
Opening group Matt Ryan, Will Smewin and Joseph Moore completing their
round on the 9th green.
Noah Winwood teeing off on the 9th holes, whilst playing partners
Sebastian Bagley and Joseph Johnston watch on.
Joseph Johnston teeing off on the 9th tee in impressive fashion.
Young academy graduate Sam Knowles attempting a putt on the 8th green
10 year old Ben Storer sending out his tee shot on his 9th and final hole.
Ben Evans playing a tricky chip over the bunker on the 9th hole.
Sam Knowles holing out confidently on the 8th green.
Recent academy graduate Arjan Billan sends a putt across the 9th green
with new junior organiser, Richard Evans, Ben Evans and academy
colt Leena Yakoob watching on.

Juniors Florida Scramble Sunday 3rd July

On a day of perfect weather, Walmley juniors took part in their first Florida scramble. 13 juniors and 7 adults took to the course in five groups of four playing a format that was unfamiliar to most, but proved very enjoyable.
The day was won by Richard Evans, Tom McGrail, Joe Johnston and Arjan Billan with a gross 67, net 56.2.
Thanks to everyone for your continued support