Lady Captain's Charity day 2021
Lady Captain's Charity Day was anther roaring success for the Ladies Section.
Organising the day was a bit of a logistical nightmare, as Boris had decided not to ease restrictions. But we are blessed to have best Committee and Board of Directors, who managed to pull the whole day together and get all 22 teams out on the course and marshalled upstairs for the evening meal and presentation.
A HUGE thank you to Jo Boyes who organised the competition brilliantly and managed to successfully direct players to their first stop to collect their goody bags and lubrication stations. These were set up in the Halfway House, Cottage Garden and the Balcony. Thanks to Pascal and Rory for ensuring the right number of bags were in each station and the bar staff were there on hand to offer drinks. Fantastic start to the day!
Then the golf kicked in! A nice steady shotgun start with opportunities to add to the fundraising on the 5th with Beat The Pro. Steve did a brilliant job with only seven people managing to beat him. He played a few mind games with people offering his advice before you teed off just to unsettle you. It worked with Lady Captain! He told her to play an 8 iron (she always plays a 9 and never had a problem). However, she stuck to her guns and went straight in the water. (her Mulligan had to come into play on that hole 😊) Many thanks to Alex & Stu who were plying contestants with drink to try and put them off - another great tactic! – Great fun on the 5th.
A brutal putting comp on the putting green. So brutal only one person holed out, (to our shame not even a Walmley player!!) Judith Waterhouse from Whittington is now the proud owner of a super Putting Practise Mat. (kindly donated by the Pro Shop) The only comment was, "does she need it if she can putt like that?"
Then to finish us all off, The Yellow Peril!, a separate game all together where you had to "bring your ball home" to enter. This comp was won by a visiting team from Edgbaston. Well done to Charles & Sam Cattaneo, Ann Bache and Jon Vickers.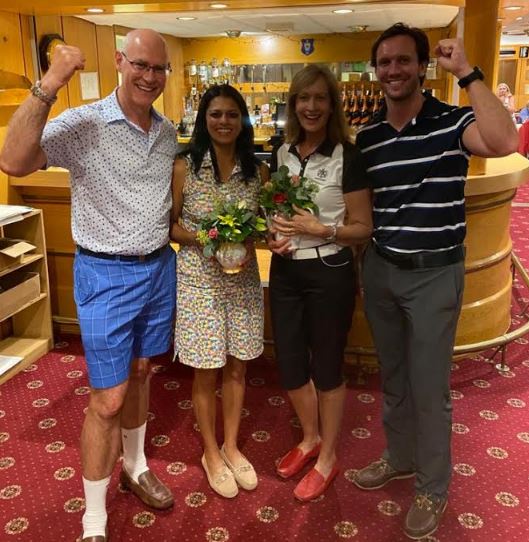 Results of the Lady Captain's Charity Day: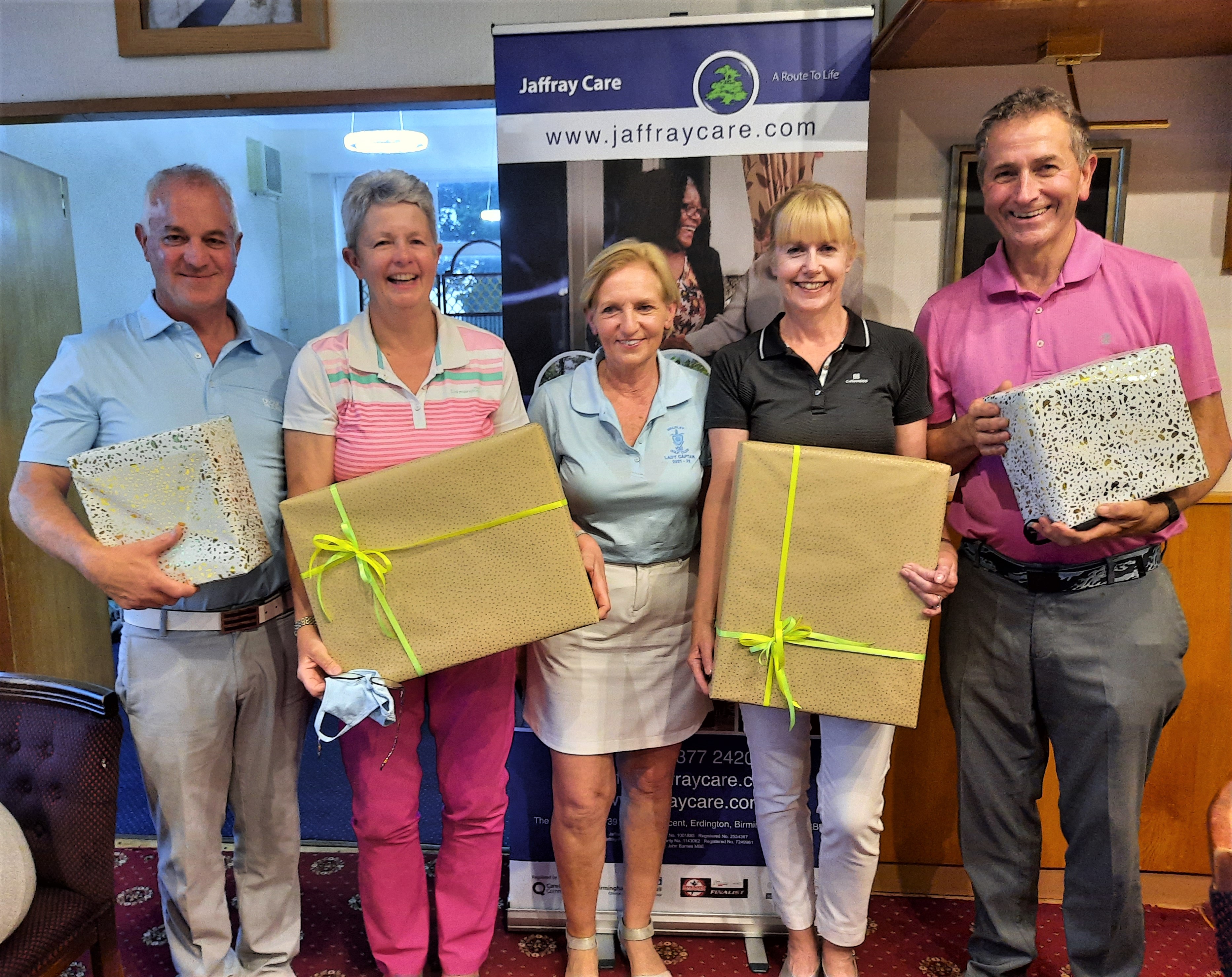 1st - 85 points - Mike Ball, Gill Ball, Andy Boyes, Jo Boyes (countback back 9 of 41 points)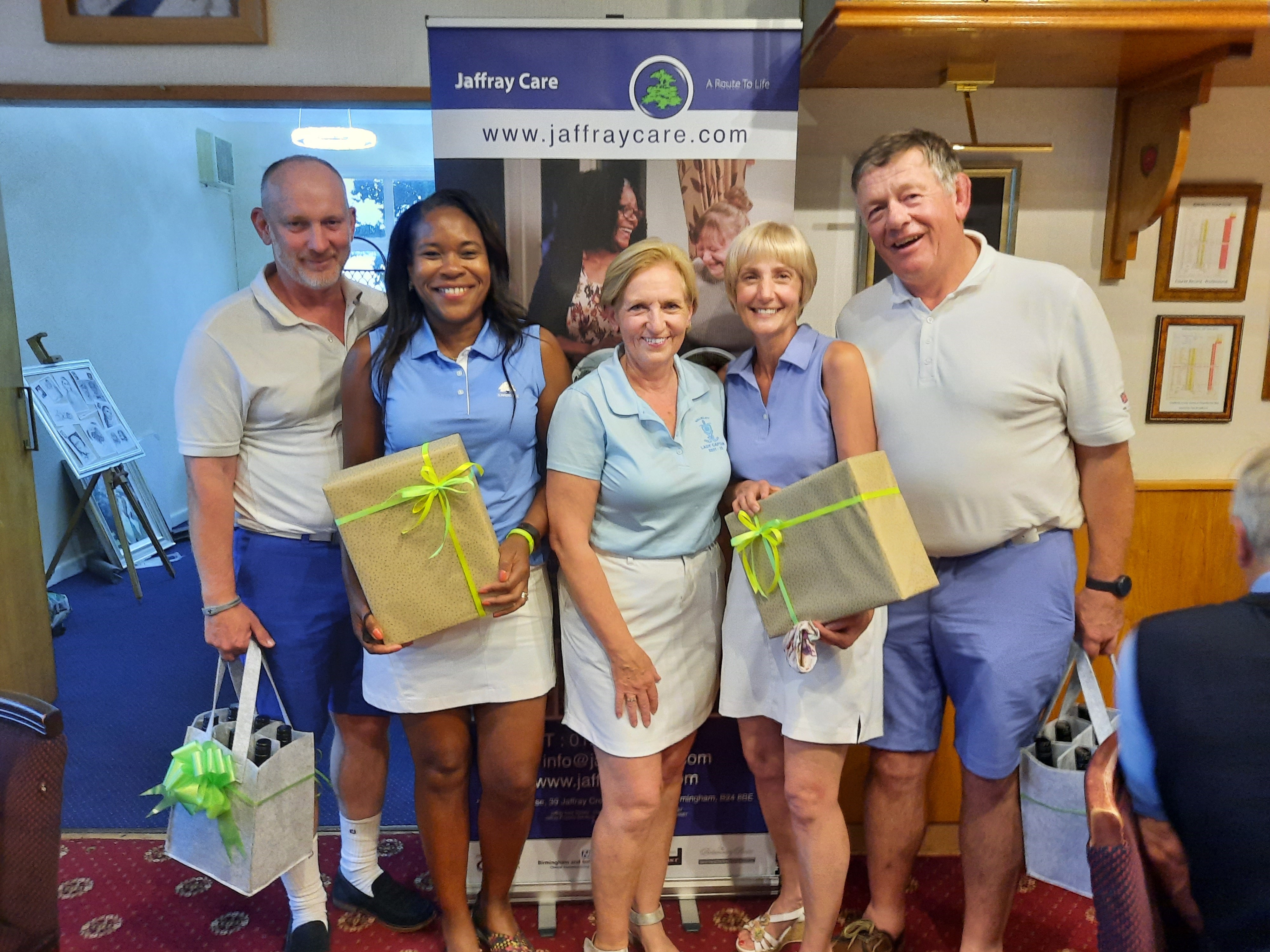 2nd - 85 points - Matt Harrison, Angie Harrison, Steve Blake, Liz Blake (countback back 9 of 39 points)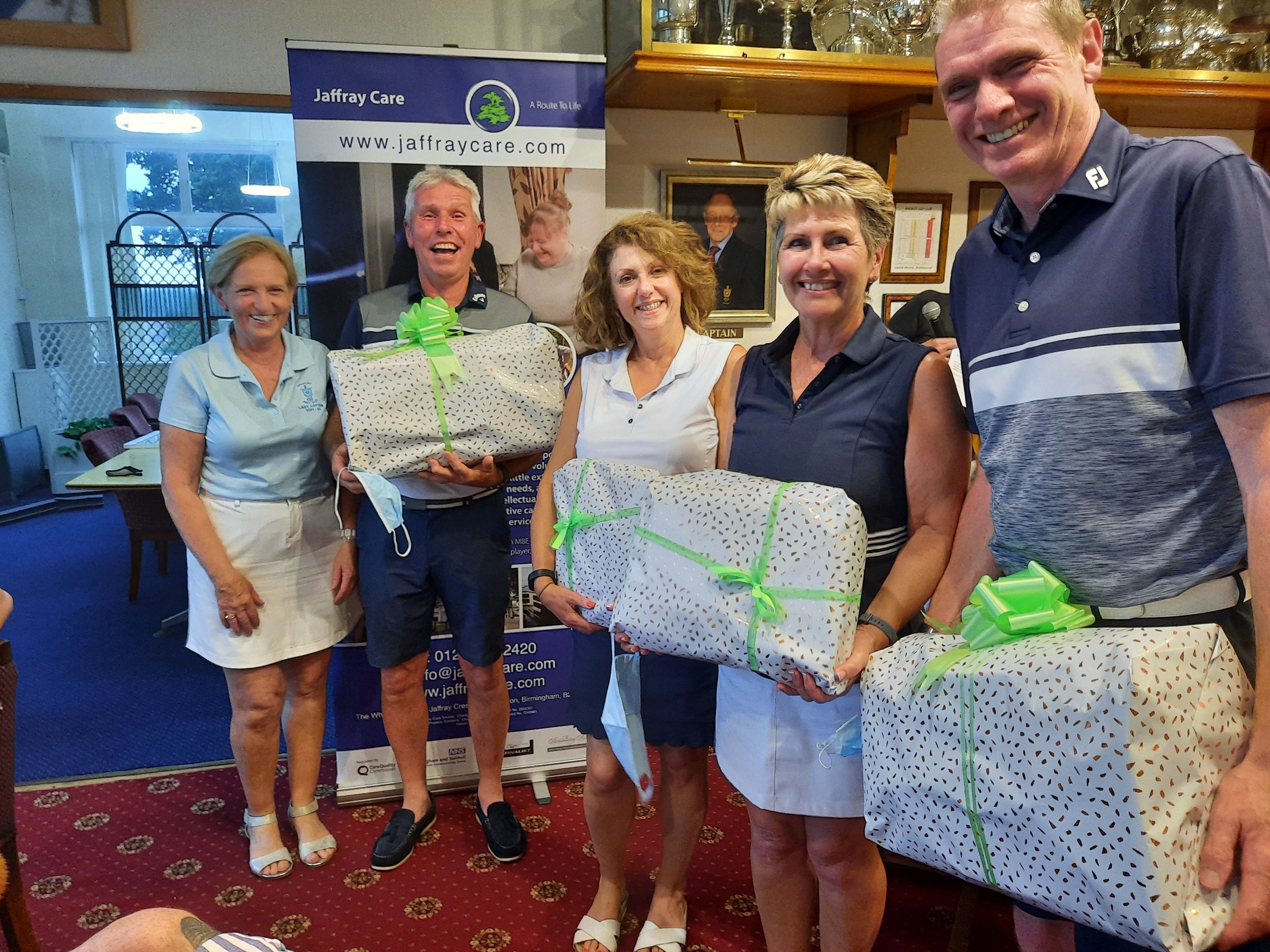 3rd - 84 points - Malcolm Brown, Sharon Brown, Rob Robbins, Lesley Williams
The day finished with a delicious meal served by Pascal and his Team. The bar staff, under the supervision of Rory, did a fabulous job of ensuring everyone had the drinks they needed. Table service ran so smoothly, not an easy task with the room capacity we had. Thank you to everyone.
Then the main event! The Auction.
Everyone was so generous with their donations and Mark Ansell did a brilliant job of raising an incredible amount of money for the Charity. He worked the room brilliantly, cajoling and coaxing everyone to open their wallets just that little bit further. I think everyone thought he had truly missed his vocation. He was a brilliant Auctioneer For The Night and kept the room buzzing by engaging everyone with his banter. A Superstar!
At the end of a brilliant day, Lady Captain is pleased to announce that the amazing sum of over £5000 was raised by the members and guests of Walmley Golf Club for her charity Jaffray Care.
"Thank you all so much for your support for my charity. I am completely overwhelmed with everyone's generosity".
Madam Captain (Pat Johnson)