Notable dates 2022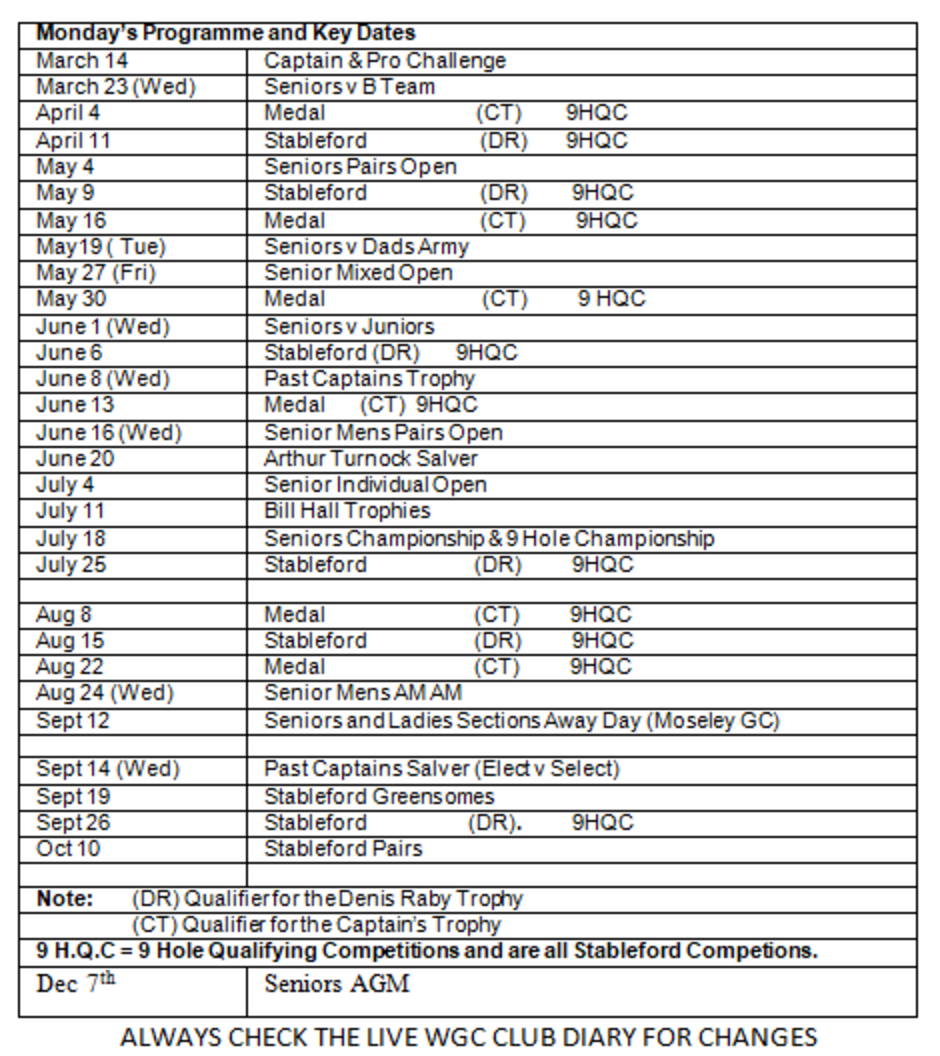 A warm welcome to Walmley Seniors information.
The Seniors is a section for male members aged 55+ who want to enjoy competitive and social golf throughout the year. With individual and team golf, playing in Senior Interclub Matches home and away. Enjoy social events and the company of other members of the section. Funds raised go back to the Club for agreed Golf Course and Club improvements, the Junior section, selected charities and back to benefit the Seniors section.
General Weekly Competitions and Social Games.
There is a mix of Stableford, Medal and Team games. They count towards the Order of Merit and On Going competitions. These can be found on the Upcoming Competitions page in the club competitions section.
Although the competitions are playable all-day Monday designated tee times for the Seniors can be booked online from 8.00am to 10.30am, available to book in advance.
Your club competitions purse will be used to enter. Any winnings can be put back into your competitions purse, onto your bar account, or onto your pro's shop account, via a voucher that gets put into the Professional's shop. It is your choice.
These competitions can be found on the golf club website, Competition-Upcoming' up to 10 days in advance of the competition. CLICK HERE
Senior Inter Club Matches
Played between March & October, Home and Away. Six pairs play better ball match play.
You can review the fixtures in the main club comps page under matches and register your availability to play. or CLICK HERE
Team kit should be worn if taking part.


Senior Open Competition s
We have Seniors Mixed Pairs, Seniors Individual Open, Seniors Pairs and Seniors AM-AM played throughout the year.
Again this information is on the club competitions page on Upcoming Comps. or CLICK HERE
Newsletters
We have a newsletter that is emailed out at least once a month, full of updates and reminders of what is coming up coming.
Senior Trophies stand alone.
There are the 'stand-alone' trophies played over one round:
Bill Hall trophies Medal Competition with a winners for the best gross score and the best nett.
Seniors Championship (18 hole competition best nett score.)
Seniors 9 hole Championship: (Stapleford played on the "Front Nine")
Arthur Turnock salver (Foursomes 18 holes Stableford)
Edna Turnock salver (9 holes Stableford for Seniors over 80 years of age.)
Nine holes Senior's championship (Front 9 holes Stableford, 9 holes over 80's Eclectic)
Niblick Trophy (Captain's Away Day Trophy)
Bill Preston Trophy (Best score recorded by a member of the WGC Senior Section in the Seniors Individual Open)


ongoing trophy competitions:
*If conditions do not allow six matches to be played the Trophy will be awarded to the best scores from a minimum of at least four games.
George Dangerfield Trophy ( Eclectic Gross scores oversix6*)
George Dangerfield Trophy (Eclectic Nett scores over six*)
Dennis Raby Trophy. (Best three stableford scores from six*)
Captain's Trophy. (Best three nett medal scores from six*)
Seniors Knock Out Cup Match Play, (Matchplay, draw and re-draw after each round..)
Seniors Order of Merit. (Played from mid march to the end of September. Played via Medals and Stablefords including Seniors nett championship plus the Bill Hall Trophy. Points awarded with first place giving 12 points then in descending order with an additional point for returning a completed score)

Seniors Over 80's Eclectic
For more details Click Here .


For more details go to golf club website and click 'Competition', 'ongoing 'or CLICK HERE


Social Events
Throughout the year we have opportunities to mix with Shotgun comps, Captains Away Day, Seniors Sunday lunch, Seniors Ladies Night, Seniors and Ladies fun comp. Plus the Seniors Snooker competition. These will be in the website diary and in the newsletter. or CLICK HERE
Annual General Meeting
This takes place the first Wednesday in December where the various reports will be talked through and plans for the next year, along with the accounts submitted.
Normally this would be during the morning with a lunch option to follow.
Subscriptions
It's easy to join the section. Contact our Treasurer, Dave Soen. Annual subscription is only £10.
Transfer details are Walmley Golf Club Account Eggs, sort code 40-12-24 account number 01169572. Please put a Golf Club Eggs as a reference name on the details